Away In a Manger
An Easy Christmas Eve Add-on (and a New Year's Eve Bonus!)"
As someone who loves to create an "experience"–whether that is at a dinner party at home or a worship service for 50-5000–I am always looking for ways to delight and inspire those who gather. Just the right lighting, the right fabric, the right words, the right ambience and musical mood are things to which I pay a lot of attention. And I'm always looking for a little "twist"–something unexpected.
A question on a Facebook thread recently got me thinking about an idea. I'm sure it's been done somewhere before but just in case you haven't seen it or thought of it, I'm going to give you an easy "add-on" idea for your Christmas Eve services (it's about a display of nativity scenes you could keep up through Epiphany Sunday… and if you read to the end, there is a bonus New Year's Eve ritual idea). Some background…
The Facebook question was about whether it was appropriate or not to include a nativity scene (or "créche") in the sanctuary for Advent. I believe the original questioner asked about placing it on the piano… which got a lot of heated response from pianists!
Then someone said, "don't put it on the piano, put it on the altar." And then a debate ensued about whether you call it an altar or a table and whether a nativity scene would be appropriate there. Then someone tagged me and asked for my opinion (oh, boy!). I wasn't too keen on getting into the middle of a debate about altar vs. table (this varies depending on your tradition) so I veered the conversation a different way:  most nativity sets are too small to be an appropriate scale for visual art in the sanctuary so it is time to think about alternatives!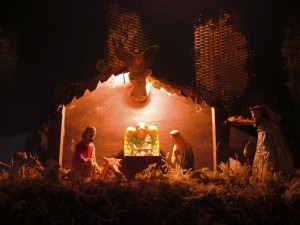 I suggested a separate table or stand where people would have access to see it close-up at some point in their coming or going (back of the sanctuary or the narthex) or perhaps incorporate "stational" liturgy during the service with the créche as one of the stations. I also suggested taking close-up photographs of it to use in media projections as backdrops to song slides, etc. if this is a ritual art that you utilize in your worship.
But then I got to thinking about an expansion of this. Some respondents on the Facebook thread mentioned that the nativity sets were very special to the congregation. And I thought, "well, yeah, my family nativity set that I have is very special to me!" And I'll bet there are a lot of church members with similar feelings about their nativity sets. So…. (here it comes…)
Why not a fellowship hall or smaller chapel space or other common gathering space set up with tables of nativity sets of your church members for display on Christmas Eve and invite folks to view them before or after your services? Here are some ideas to carry it out without needing a lot of time to organize it:
Keep your set-up simple. Tables draped with black fabric is the best minimal set-up for this. The black fabric will allow the nativity sets to pop! Think about simply adding some little twinkly white Christmas lights stringing along the tables.
Invite people to include a picture of their family, a paragraph about where they got it or why it is special.
Invite people to bring some candles or pin lights that will illuminate their nativity set so you can keep the room dark for optimum "ooooo ahhhh" factor (and keep your set-up to a minimum… you'll just have to think about plug-ins and extension cords).
Invite some young musicians to play meditative music as people wander about looking at the exhibits (or if live music is problematic, use recordings).
Or make it a lively, festive feel with brighter lights and more festive music and include tables of information with ministry opportunities for those that may not be connected more deeply in the life of your church.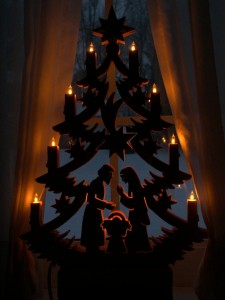 I have to say that I have an affinity and love for manger scenes because when I was growing up in the First UMC of Adrian, Missouri, we had a live nativity scene every year. Our church was situated on Main Street where people would drive by (often several times) to see who was Joseph and Mary this year… or whose kids were playing shepherds and angels. I played many roles but the most magical and adventurous (therefore my favorite) was being an "angel from on high" sitting on the roof of the church's educational building in the glow of the star.
No matter what you are doing, find ways to create mystical, delightful, meaningful and memorable moments. It isn't about creating nostalgia, it is about making lasting memories that form us into disciples who make room for the mystery of the holy each and every day.
May you be blessed in your holy-day ritualizing!
(oh yeah… here is the New Year's Eve bonus!  Click HERE (https://www.youtube.com/watch?v=wk7e6qyieEM) to find out how to create a FUN and MEANINGFUL party and ritual in your home or church that will become a yearly must-have!)
Peace & Passion,
Dr. Marcia McFee
Get coaching and resources for enhancing worship all year long by becoming a member of the Worship Design Studio at www.worshipdesignstudio.com
Images credit:
Compfight:http://www.flickr.com/photos/28565785@N02/6565779779/
Compfight:http://www.flickr.com/photos/25191235@N00/327523498/
Compfight:http://www.flickr.com/photos/58951023@N00/4203903690/