Blest Be the Tie!
Wow! Wow! Wow! What an incredible week we had with the most interactive and intergenerational worship ever. When hundreds of people of all ages gather for a week of making Music and Worship Arts (hence the name of the conference) at Lake Junaluska, it is a perfect opportunity to explore the whole range of expression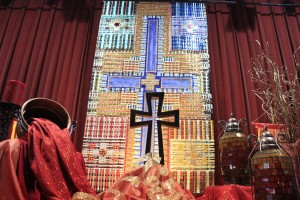 for worship. And that's what we did!
I loved the theme–"The Tie That Binds." Our worship explored the ties that bind us together with God, with each other, within our churches and with the whole of creation. I got to create worship with some of my favorite worship artists (who also happen to be long-time guest experts in my Worship Design Studio).
Highlights:
…our theme song written by Chuck Bell!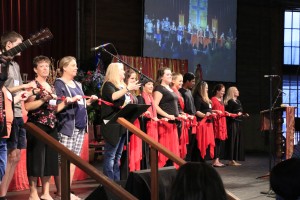 …stunning visual arts by Karla Kincannon!
… fun times with "Mr. Mark" Burrows embodying the message through play and puppets!
…the ties that we utilized every day (and that hung all over the conference center trees and buildings all week)
…the ways that drummers, dancers, dramatists, organists, praise band musicians, orchestra, choirs contributed to an inspiring week of praising God!
See more highlights (including video) by visiting the Facebook page for the event HERE
I'm going to be working on this theme to adapt it for local church worship and post it in the Worship Design Studio (become a member at www.worshipdesignstudio.com). This was a really good theme and has lots of possibilities for inspiring your church to celebrate and strengthen the Ties That Bind us in love!
Download the scripts so you can catch a glimpse of what this theme inspired!
Peace & Passion,
Dr. Marcia McFee (www.worshipdesignstudio.com)