Gifts of the Dark Wood
Get worship resources for Gifts of the Dark Wood
We've all been there. In the Dark Wood where failure, emptiness and uncertainty live. Eric Elnes has written a fa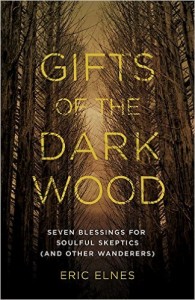 scinating book (order HERE) that offers a hopeful, humorous and poetic look at how walking through the Dark Woods moments of our lives is fodder for a deeper knowing about who we are and where our path in life is going. This book will speak profoundly to many and, together with the small group materials, will be an excellent resource for churches who want to have deeper conversations and build more spiritual community.
In January I had the great pleasure to be part of an event at the BTS Center with Eric. He was speaking about the book that was just getting the finishing touches. I created ritual, musical, visual and media experiences around the themes in the book, along with musician Chuck Bell. It was a rich time for the group that gathered. I
was so struck by the subject matter then and once I read it again since it's release, I'm more excited than ever to continue the collaboration with Eric. So, I am creating a worship series, complete with liturgies, music possibilities, ritual actions, visual and media art suggestions based on the book. I will create two versions: one for use any time of year and the other a special Lenten journey through the Dark Wood.
I began the Worship Design Studio because I am passionate about resourcing churches for deeper and more meaningful spiritual journeys through worship. I wanted to help churches learn to cultivate  safe places to open our souls to God and to one another because there are so many who come to worship in the midst of  Dark Woods journeys.