Goosebump Factor: More on Threshold Moments
Want more "goosebump factor" in your worship? I'll bet you know what I mean by that! It's not just a production value. It has real spiritual purpose. This is what I call a moment when we feel transported to a higher or deeper level and open to the presence of God in profound ways. It is a moment that can make the difference in how we experience the rest of the ritual.
As we begin another planning season for Advent/Christmas, it has occurred to me that the concept I teach called the "Threshold Moment" is something that most churches actually practice… ONE SEASON A YEAR… at Advent. I'm speaking of the lighting of candles in an Advent wreath, with accompanying song refrain and usually a litany or reading of some sort. This tradition of lighting candles each week has possible pre-Christian Germanic origins that celebrated the hope for returning light in the midst of the darkness of winter. It became a very common practice in the Middle Ages in Christianity as a way of celebrating God's Light coming into the world in the birth of Jesus. And let's just say it caught on.
I think lighting the Advent candles are so popular in churches for the same reasons that "Threshold Moments" can be a powerful way of ushering us into a much deeper spiritual journey no matter what time of year it is. Essentially, we humans need direction. We need suggestion and gentle guidance to center our ever-busy brains that usually run at break-neck speed. We need to settle. And our brains love novelty as well as familiarity. Threshold moments give us all of that when we utilize them over the course of a worship series.
Example
The theme I'm working on currently in the Worship Design Studio for Advent/Christmas is called "Sacred." The spiritual journey is to move through the season seeing all time, people, spaces and places as opportunities for the holy to shine through. The titles of the services are Sacred Time, Sacred People, Sacred Space, Sacred Knowing, Sacred Being (Christmas Eve) and Sacred Doing (Sunday after Christmas).  Based on these titles, I wrote a short musical refrain to be used for the Threshold Moment:
Upon this moment
Upon this people
Upon this place
The Holy comes
And Sacred knowing
Brings Sacred being
For Sacred doing of God's plan
You don't always have to write your own, I often find something perfectly suited already for a series, but for some reason this just popped into my head. So now I begin to imagine how I want to draw folks into the message. I write a synopsis for each service that will be spoken during an extended musical introduction to the refrain. For example, for Advent 1, "Sacred Time."
"The busy-ness of the holiday season can overrun the sense of the sacred. The irony is that we push aside the Holy in order to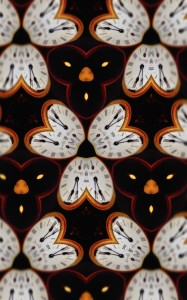 create all the the trappings of a season meant to celebrate the Holy! We will begin our Advent journey toward Christmas by emphasizing the gift of God in the 'right now'… the gift of sacred time we give to God, to family and friends and to those in need of help."
Now I move to making it even more sensory-rich… what sound could dramatize this? What about a recording of a ticking clock that fades out into the musical introduction?
Then I speak the words of the synopsis. Perhaps the first candle is walked down the aisle when I say, "We will begin our Advent journey…" so that by the time we sing the refrain, it is being placed in the wreath. After the song, with music still playing a bit more, the candle-bearer says, "This candle is a reminder to really take time for the Sacred to shine through in this holiday season."
Listen to a recording of this here:  Upon This Moment (Thanks to my collaborator, Chuck Bell for the musical arrangement of this little Advent ditty! Get his suite of piano preludes for Advent and Christmas HERE)
See another example of creating a threshold moment in this excerpt from my webinar with Chuck Bell HERE
If you aren't signed up for my e-mail list yet, click on the link under "Stay in Touch" at the top of the right column and get the synopses for each week of this latest worship series (or become a member of the Worship Design Studio to have access to 5+ years of series with resources for every Sunday).
Calling Deeply
Basically, I'm saying we need–all year long–to make more of what we usually do in a "Call to Worship." It needs to be more intentional. More artful. More sensory-rich with music, words, visuals and action layered into the moment. We need to be called more deeply into an experience of God's presence. During Advent, I invite you to notice the elements of your Advent-wreath lighting experience and ponder how a repeated "threshold moment" like this could enhance the "goosebump factor" in your next series as well.
Peace & Passion,
Dr. Marcia McFee
For coaching, education for your worship team and inspiration for worship ideas, become a member of the Worship Design Studio!
Feature photo from http://www.flickr.com/photos/63894760@N00/507584098/  (Creative Commons License)