Let "Heaven and Nature Sing"! My new Advent series is HERE!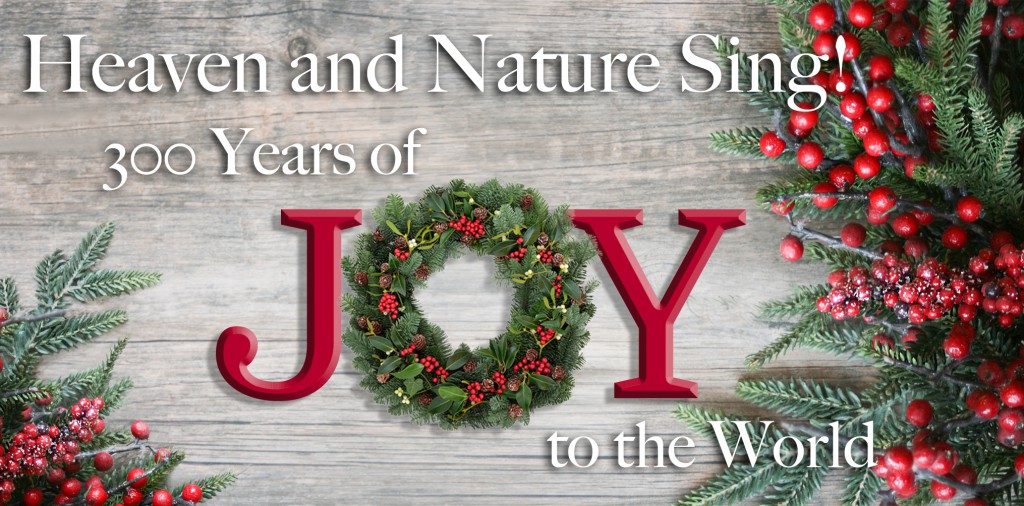 You know where that line in the title comes from, right? Sing it with me: "Joy to the world…the Lord has come!" One of the best-loved hymns in history, "Joy to the World," turns 300 this year. In 1719, Isaac Watts penned this beautiful song, and we have been singing it at Christmastime in faith communities all around the world for three centuries. That makes this year a special occasion!
This year, "Heaven and Nature Sing" will take us on an Advent journey looking at several different ways that we can experience and bring joy to everyone around us, even and especially when our circumstances and current events are not so happy. When we use the word joy in modern language, we usually think of simple happiness or bliss. But true joy goes so much deeper than that. Inspired by The Book of Joy with the Dalai Lama and Desmond Tutu, this series expands our experience of joy and calls us to a new understanding of what it means to be peace, hope, love, and joy in a troubled world.
A great way to learn more about this series is to come to the FREE get-ready webinar I'm hosting on Wednesday, October 16th at 9am Pacific / 10am Mountain / 11am Central / 12pm Eastern time. Sign up to get the webinar details HERE!
"Heaven and Nature Sing" offers seven full scripts, including 4 weeks of Advent, Christmas Eve, the Sunday after Christmas, and a Blue Christmas service. Chuck Bell, my musical collaborator, has created an original theme song to use for the threshold moment each week of the series, and my friend Marsha Moors-Charles has written a special Benediction song as well. This series comes with original music from independent artists! Mark Burrows, our guest expert in children's worship, has written scripts for the children's time for every week of the series, and also has a puppet play to supplement the series available for separate purchase HERE. In addition, "Heaven and Nature Sing" also comes with Visual and Media Arts suggestions, Take-Home pages with activities for the congregation to deepen their experience outside of corporate worship, sermon fodder and small group suggestions, original communion liturgy and music setting, and more. WDS members get access to this series for FREE as part of their subscription! If you're not yet a WDS member, you can purchase this series for $99 at www.worshipdesignstudio.com/joy.