Let the River Run! Gather at the River Convo
Get the full scripts below!
I am honored, for many years, to have been a part of the effort in the United Methodist Church to make sure all persons have access to full participation and leadership in the church. This week over 700 people are "gathering at the river" in San Antonio to proclaim that the river of love and justice that flows from the throne of God is indeed carving a new path, changing the banks of the church and this world into amore hospitable place.
I get to collaborate with my dear friend, Mark Miller, at this gathering. The first time we worked together on a conference was at a similar gathering almost a couple of decades ago. Since then we have cherished our collaboration and the opportunities we have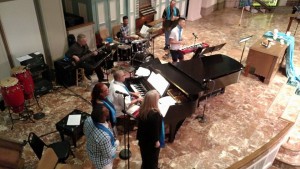 had to offer a liberating word through worship and music. We both believe strongly that ritual is formative–the question is "to what are we being formed?" Does the word proclaimed send us into the world to make it a more loving place? Does it not only comfort, but challenge us to embody justice in our daily lives? Is the Word said and sung, seen and felt, moved and visually depicted in ways that are so provocative as to come to mind in ripples of memory even after the worship is over?
And what difference does it make that we do this as a worshiping body together? It makes a difference when we need to feel the echo of other voices joining with ours in those times when we might feel alone. It makes a difference when we find ourselves crossing another river once again in life transitions and we need to know that the cloud of witnesses–living and past–are crossing with us. It makes a difference that we have a bodily experience of praising, celebrating and lamenting in community so that we know the reality of the power that is the Spirit's doing.
May your worship embody a spirit of love and justice!
Peace & Passion,
Dr. Marcia McFee