Mystical Immersion
I slept with the sharks… and massive sea turtles and tiny sea horses and bulbous tuna and gadzillions of small schooling, circling fish that rose and moved as one mind. Well, could I really sleep? It was hard to do that as the state of being immersed in this mystical world was so mesmerizing I found it hard to close my eyes.
A sleepover at the Monterey Bay Aquarium has always been a dream for my spouse so on a big birthday occasion we went for it. You get the run of the place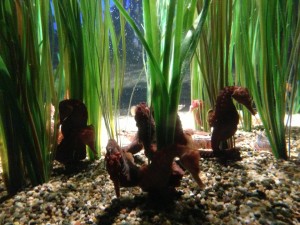 after everyone else has gone home and you get to see how puffins go to bed and sea horses twirl their tails around a low point in the seaweed so they can drift off to sleep. And then you get to make your bed in front of the massive deep sea tank where the movement never stops. The lights in the room go off while the tank continues to be dimly lit and then the "bubble curtain" comes on so the sea life won't run into the glass in the night, making the view all the more magical. And you put in your earphones with some amazing music of your choosing and proceed to watch… for hours.
I prayed hushed wondered prayers of thanksgiving. I composed Psalms in my head of awe and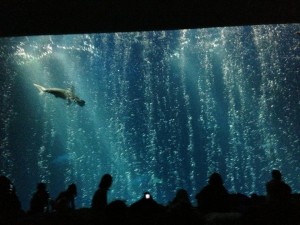 amazement. I pondered the "depths" of my life in relationship to this creation and its Creator. And I shared it with the other 100+ silent multi-generational observers in the room. It was at once a very personal and very communal experience. It was church.
And I wondered why church isn't more like this. Because we all dug it and left feeling like something very special had happened for our lives.
If you have studied with me at all, you know that I talk about the "threshold moment." It is a time at the front end of this ritual called worship that must usher us into a different, more receptive, more aware, more mystical place of spiritual journey. Whatever ritual art forms we have at our disposal, they must work in harmony to invite us to something that feels out-of-this-ordinary-world.
If you've been at a worship experience I've designed, you know I take this belief to heart. Someone once said to me after the opening worship at a big conference, "there's traditional worship, there's contemporary worship and then there's Marcia McFee Opening-of-the-Olympics worship!" I took it as a complement because indeed, I think our entrance into an event of being together in the presence of God ought to be done with that kind of intention and symbolism and depth–no matter whether that's a big conference or Sunday morning at a local church.
One of my favorite things about worship design is planning the threshold moment for a worship series. LIke a filmmaker does, I ask myself what "world" I want to immerse the congregation in. What is the "feel" and the rhythms and the colors and the timing and the narration and the sound score that will usher us into an evocative place? Whether it is an Australian didgeridoo, Native flute, handbells, chime or solo voice, what sound will draw us in?
If we have control over our lighting, will this be a bright and celebrative moment to begin or contemplative hues of blues? What action will draw our attention? A candle being processed slowly down the center aisle or 10 drummers pounding a heart-beat-synching rhythm from all corners of the room? What words will set the direction of our thoughts and feelings–connecting our everyday context to this expression of the Holy? All of these decisions are made based on the vision of a theologically and scripturally-thematic direction and the careful work of a team of artists.
Immersion can happen even if we aren't lying in front of a shark tank in the middle of the night in a once-in-a-lifetime experience. Immersion can happen every time we gather for worship if we intentionally and faithfully call forth the mystical depths of our spiritual and artistic selves.
So the next time you worship, pay attention to whether or not the beginning of worship (at least after announcements!) immerses you in a mystical spiritual journey… or not. Then dream about creating more threshold moments. May you be blessed in the art of your worship design.
Peace & Passion,
Dr. Marcia
Watch a video of me teaching about "threshold moments" HERE
For more teaching on worship design and 5+ years of worship series inspiration, become a member of the Worship Design Studio at www.worshipdesignstudio.com