Poured Out: Elements for Creativity
I am a student of creative processes. When raw material is met with structure and imagination, I believe the floodgates of creativity open and we get to dance the dance of co-creating with the Spirit. This is the ultimate joy of being a ritual artist.
A couple of years ago I was on yet another late-night plane ride (story of my life) heading home from a weekend consult and workshop on worship and I began to read the texts for Holy Week.  Somehow (who knows how the initial inspiration works… maybe Divine Nudge?), I began to read for prominent characters and for prominent "elements" or symbols in the story of things "poured out."  And then I began to put them together: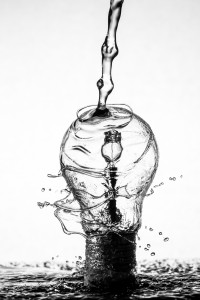 Mary, friend of Jesus – Oil  [anointing Jesus' feet]
Simon Peter, disciple of Jesus – Water  [Jesus washes his feet]
Judas, betrayer of Jesus – Wine  [Jesus' shares the cup at the Last Supper]
Roman soldier, executioner of Jesus – Blood  [the crucifixion]
Mary, mother of Jesus – Tears  [at the foot of the cross]
Salome, follower of Jesus – Light  [an empty tomb at dawn]
At first, I thought my work on the plane would just produce a structure for a possible drama… maybe someday I would flesh it out. But suddenly the characters began to write themselves and this piece literally poured out of me!  By the time we landed, the first draft of these monologues set in the midst of appearances in three worship services (Palm Sunday, Good Friday and Easter Sunrise) and the whole order of worship with music and readings and ritual actions was complete.  Last year, several member churches of the Worship Design Studio produced "Poured Out: Elements of a Resurrection" and reportedly had profound experiences both in the preparation for these services and the embodiment of them.
Creating is not always this easy for me. Sometimes it feels like labor and usually in the middle of it I want to take it back. I want to quit. I want out! But usually that happens when one element of these essential "elements" for creativity hasn't fallen into place:
1) an initial inspiration and the willingness to chase it
2) immersion into the idea through study of texts, being surrounded by visual images, and opening my imagination
3) a good structure that offers a "frame" for the progression of the idea
I believe to my very toes that everyone is creative. It is our birthright. It is what being made in the image of the Creator God is about. It is the only way God can trust us to co-create a better world. And I believe creative processes can be learned so that things "pour out" of us when the Spirit provides that Divine Nudge. Because it is almost Holy Week, I got out that script and read it again. And the memory of flying high in spirit and body on that plane ride came back to me. I pray such experiences for you and I pray your Holy Week is filled with Elements pointing to a Resurrection.
Peace & Passion,
Dr. Marcia
Read an excerpt from the Good Friday worship script:  Poured Out excerpt
Top photo credit: Ted Lyddon Hatten