Take an Hour for a Week (a Holy Week, that is)
I'm wondering if you can spare an hour to get inspired anew about how you might facilitate amazing experiences for your community during Holy Week. You probably have favorite Holy Week worship practices but even just one new element can help your congregation find a new way into the story. I did a live webinar a couple of weeks ago and if you haven't checked it out, take an hour to prepare to make this holiest of weeks very special this year!
You know, one of the things I love about being a "consultant" is that I've been around and I've seen a lot! It is sort of the "queen bee" metaphor for cross-pollinating ideas from one church to another.  Here is a short list of my favorite Holy Week practices that I've picked up along the way (ok… I just made up the first one). Then CLICK HERE to spend an hour watching the recorded webinar where I offer many more ideas and how to carry them out.

1. If your church has got social media happening, bring the story to life by having "characters" from the story create updates about what is happening from Jerusalem throughout the week on your church's Facebook page and Twitter account. This would be a great project for youth. They get to learn more about the story and creatively reenact it as if happening in real time. The characters don't have to be "main" ones only–they could be "eyewitnesses" to the scenes such as someone who just stumbles onto the path of the Palm Sunday parade or a young boy or girl who has been asked to help serve the guests at the Last Supper.
2. Keep a prayer vigil from Thursday night to Sunday morning (the "Triduum"). When I was growing up, we did this in a small room behind the sanctuary with a simple candle, reading and writing materials. It was such a mystical experience for me. You could create a space in the church or if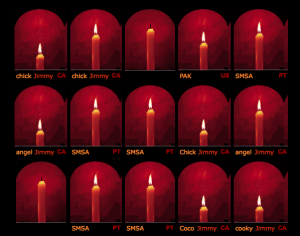 your community is not all "local," have a virtual vigil and simply sign people up for various times to do it in their homes. HERE is one of my favorite virtual candle-lighting websites where you can join people around the world in lighting candles that burn for a prescribed amount of time.
3. If you have trouble getting people to Thursday and Friday services, combine them and create a movable ritual so that the meal, communion and footwashing happens in one place in the church, then move to somewhere set as the Garden of Gethsemane, then to Pilate's quarters, then to Golgatha (sanctuary, perhaps). 
4.  If you have good attendance at Holy Week services, try adding the beautiful Easter Vigil service if you don't already. This is a wonderful service of fire, water, word and table. It starts with a bonfire outside before bringing the light into the dark church.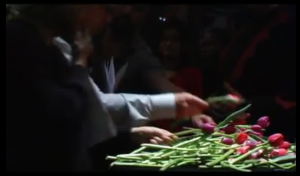 5.  My favorite Holy Week moment from our friends at St. Gregory of Nyssa in San Francisco: Place an icon of Jesus on the cross on a table draped in black. With only a spotlight shining on it, invite people to lay flowers on the table on at a time before leaving in silence. 
Again, there are so many more ideas in the recorded webinar… GO NOW to watch!
May your Holy Week be deeply meaningful.
Peace & Passion,
Dr. Marcia McFee
www.worshipdesignstudio.com