"The Politics of Change"
I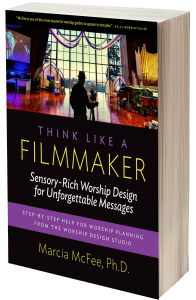 n this excerpt from my new book, Think Like a Filmmaker, we're going to talk about reactions people have to changes in worship, and how you can reach peaceful resolution through the spirit of radical hospitality. You're invited to use the reflection questions at the end as you consider conversations about change in your own church.
This is an excerpt from Dr. Marcia McFee's new book [Think Like a Filmmaker © Marcia McFee, 2016]. Find out more HERE.
"Everyone's a critic," so the saying goes. As sure as there are movies, there are movie critics. Reactions to anything are based on opinions stemming from expectations. For Roger Ebert, perhaps one of the most well-known and respected film critics of our time, the expectations of film have to do with more than simply technique. "For me the movies are like a machine the generates empathy. It lets you understand hopes, aspirations, dreams and fears. It helps us to identify with the people who are sharing this journey with us" (Roger Ebert, Life Itself). Story, and the power of film to bring that story alive for us in ways that make us care about one another, seems to be at the heart of what Ebert was looking for, no matter the genre of the film. But not everyone is reacting out of such lofty expectations. Sometimes people just want what they "like" based on their own proclivities and without regard to what I call "a culture of hospitality."
Some churches I have consulted with are paralyzed by a small but vocal group that threaten (yes, threaten) the ministry of the church by withholding their gifts and their presence if they don't get their way—"sing this music, not that; preach from the pulpit, not the middle; add projections and we're out!" Churches often talk a good game about radical hospitality to "those people" outside the walls, and then I see how people treat each other in discussions about diverse worship expressions and I wonder if we have heard the Gospel mandate to love one's neighbor at all. Our "neighbor" may be the person sitting next to us for the last 30 years who resonates with something different in worship than we do. The mission of worship is not actually about pleasing ourselves. Or any one person. Even if it was, if we managed to please one person, we are guaranteed to have cut ourselves off from reaching someone else. People-pleasing is a game you can't win and it will suck the life out of your church. You see, the thing about our inherent diversity is that for any one moment in worship, I can guarantee there will be some who "like" what's happening. And I can also guarantee that, for someone else, it will just not be their "cup of tea."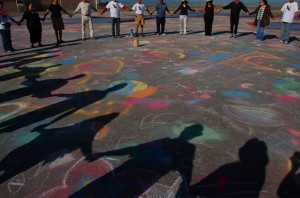 Imagine your church is having a potluck. Everyone has brought things they believe will feed the community in a delightful way. You arrive and see a chair at the table open and waiting just for you. The food in front of you is plentiful. You see fried chicken and you start to salivate. You notice that someone brought mashed potatoes and gravy—prepared just the way you like it. Then, out of the corner of your eye, you see the brussels sprouts! Oh, no, no, no. You don't like brussels sprouts! What are you going to do? Get up from the table in a huff and leave the gathering because someone dared to bring brussels sprouts to the potluck? Of course not! Instead, you take the brussels sprouts when they are passed to you and you turn to your neighbor and say, "You know what? Brussels sprouts are not my thing. But I saw how your eyes lit up when you saw them! Here, let me spoon out a nice heaping portion onto your plate because I want you to be fed, my sister/my brother." And then you gratefully accept the mashed potatoes and gravy when they are handed to you, and instead of over-focusing on the menu, you delight in the gift of being in the good, hospitable, and loving company of friends.
Do you see the metaphor? I have spent the last couple of decades finding ways to help churches understand, embrace, and be blessed by their diversity regarding worship rather than being broken down by it. I have seen people and churches transform when they do so. But it takes talking out loud about our diversity and getting good structures within which to "evaluate" our worship. The root of that word is "value." For me, good evaluation happens when we find out what we value so we can get more of it. What we value is different than what we "like." In our potluck story, our decision not to get up and leave the table is based on the value of relationship and building community that supersedes our need to please ourselves. If we truly value each other and desire that God's loving presence be experienced by each and every person, there will be times when that value will move us to set aside our personal preferences in a hospitable attitude that embraces a God who comes to, speaks to, and transforms people in diverse ways.
Questions to Ponder:
How are conversations about change in worship handled at your church?
In what ways could we begin to embrace an attitude of radical hospitality, not just toward new faces, but to all the members of our community?
If you'd like to learn more about Think Like a Filmmaker, visit the book's website HERE!