Unleash your worship to Draw the Circle Wide
WATCH these excerpts from the memorial for my friend! WARNING: YOU ARE LIKELY TO BE FIRED UP FOR YOUR WORSHIPFUL WORK!
I have the privilege of knowing a lot of people. In my travels, in my work on a wide-spread scale within the church, I have gotten to know and work with a lot of people. But not many have affected me, convicted me, stuck with me as much as Martin McLee did.
I'm not alone. This can be said by so many people because that is the kind of life Martin lived. And because he was a Bishop, thank God, his influence reached many in his too-short life. I can tell you how grieved I am that he won't be around to be this witness and instigator of transformation but I'm just going to focus on the gratitude I have at this moment for the time we did have with him.
One story… well maybe two. And then three things we can learn for our worship leadership from Martin.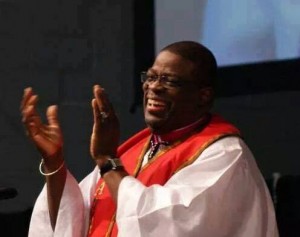 I met him 20-something years ago when we were both serving in the North Texas Conference. We met at a youth event where I had them drumming and he had them rapping. Good combination. And we stuck like glue (we were "McLee and McFee"). So when I wanted to enliven General Conference in 2008, I thought, "how about a rap from Martin McLee?" Mark Miller, my co-director for that conference said, "who?" and I just grinned knowing I was going to get to watch two birds of a feather get to flock together. We invited him and he rapped and got the whole crowd going as he was known to do. "When I say 'halle,' you say 'luyah!'" That service was a particularly difficult one as the conference dealt with divisive issues. We ended the service with the GC debut of a song Mark composed in my living room as we planned over a year earlier–"Draw the Circle Wide." Martin was beside me on the stage at that moment and at the end of that song, arm-in-arm, with tears streaming, he looked up to heaven and said, "YES!"
And so it is that Mark led the congregation at Bishop McLee's funeral for the closing song, "Draw the Circle Wide" (with new second verse for the occasion). And I know Martin is still saying "YES!" every time we draw the circle wider and include all in the circle of God's never-ending, always-expanding grace and love.
Worship is one of the ways we express to God and to others that we intend to (and do) draw the circle wide. It is the place where we hold nothing back–our gratitude, our joy, our sorrow. Martin knew this and it pained him when worship was "tired," as he put it. When he became Bishop, he called me and said, "I want to go to every District in my Conference and do a workshop on worship." Yes, a Bishop, wanted to go around workshop-ing! Because he knew that if he modeled the importance of offering the Heavenly Feast (not the fast) in worship as a Bishop, the church might just get a Holy Ghost Party happening.
The last time I saw him was when he invited me earlier this year to come and teach about worship at his Bishop's retreat (the photo at the top). The love and enthusiasm that he had nurtured in that group was evident. They were ready to go deep, to dig deep to bring the Word of God alive in all ways.
WATCH these snippets from the Celebration of His Life. Take 10 minutes and watch all of it (you don't want to miss this song). And then go out and draw the circle wider than you've ever thought possible. And really, really strive to make worship a place where the Halle-luya's are strong and true and deep. Because somebody always needs it. And there's no time like right now.
3 things we can learn from Martin's worship leadership:
1.  Don't be afraid to show your passion. In fact, if you don't, it is likely no one else will either.  Now is the time to let go, let loose and let God!
2. Be an encourager. If someone has even an inkling of a gift for song, dance, art, poetry, draw it out of them. It will bless them, it will bless you, it will bless the whole congregation.
3. Fling open the doors and invite everyone in. Does your worship feel explicitly hospitable? Are you leading songs and ritual in ways that don't assume everyone knows what is going on?
I am inspired once again by his life and will continue to do everything in my power to answer God's call on my life in this ministry of teaching on worship. Because Martin's witness will always stick with me.
Thank you, friend. Thank you, Jesus. "Yes!"
Love and miss you,
McFee