When the Going Gets Rough: Rituals for Difficult Conversations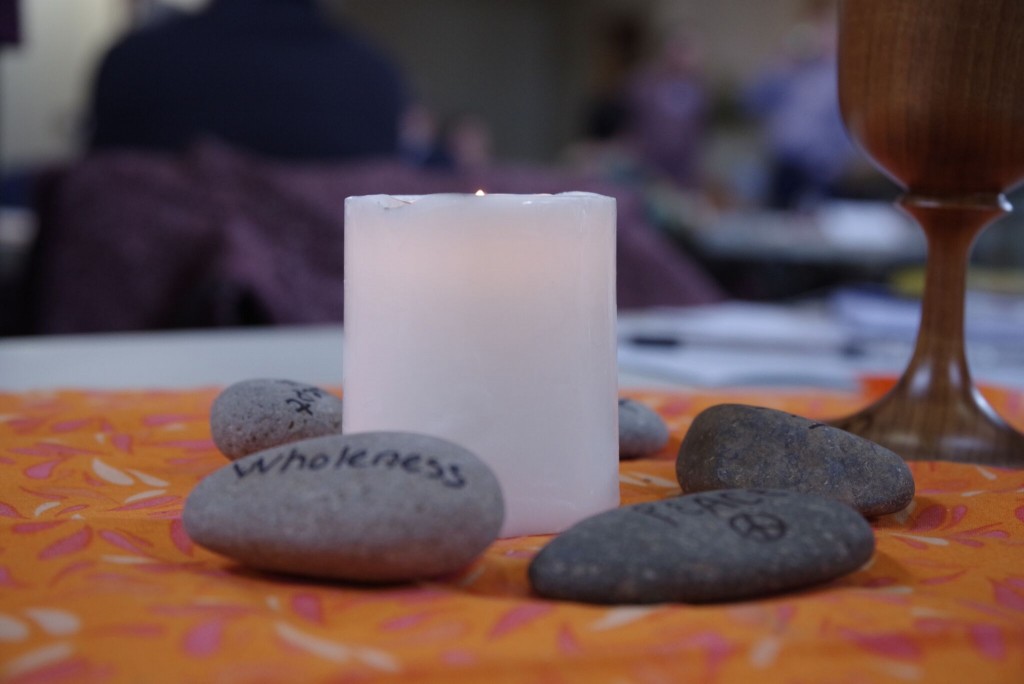 When the going gets rough, our rituals take on heightened importance. Sharing a simple meal with a neighbor is somehow more poignant when you've all been without power because of the damaging storm. Picking vegetables from the garden feels like sacred action when the ground it grows from is still black from the fires. Lighting a candle is different when you've just lost someone.
I'm sure the disciples ate together often in the years they were together. But that Last Supper was different. As the air was thick with the threat of doom, the usual acts of breaking the bread and blessing the cup became important moments full of more than ordinary routine. At this time in the life of the United Methodist denomination, conversations about "belonging" at the table intensify as the time for a special session quickly approaches to determine how or whether to move forward. Finding ways to open our hearts in this moment requires the work of ritual.
At the core of ritual is symbol and story. When I was invited by the Greater Northwest area of the United Methodist Church to write a ritual "container" for conversations throughout their conferences, I was pleased to hear that the design team wanted communion to be a part of their Table Talks. No story or symbol could be more appropriate for breaking open our hearts in distressing times. And so, I created a ritual that connects the pain and discord at that Last Supper to the kitchen table conversations of our families of origin as a way of getting in touch with our personal reactions to conflict, which leads into table talk conversations about conflict in the church.
While these liturgies were created for a United Methodist context, they could easily be used outside of that context as well. I have worked to help churches become more vital in their worship for over 20 years. This work has been my mission because I know the good that churches can bring to this world. I also know that conflict often robs us of our agency and vitality. Not talking about it doesn't help. So I want to gift these liturgies to any church or regional body out there that could use a ritual container for difficult conversations. There is a communion version and a "love feast" version (in case your denominational polity requires clergy present for communion and there is none available for your conversation).
Get a quick glance at the Communion Version HERE
Get a quick glance at the Love Feast Version HERE
Download the Word document versions, Tips for Facilitation, Reader Parts and Worship Guides HERE.
May you be blessed with deep sharing and elevated love. – Marcia McFee, Ph.D.
Top Photo Credit: Greg Nelson